Beton storten is een karwei dat niet per se door een vakman uitgevoerd hoeft te worden. Mits goed voorbereid, kan een doe-het-zelver dit prima zelf doen. Een betonnen vloer kan bijvoorbeeld gestort worden als een vloer waterdicht gemaakt moet worden, wanneer vloerverwarming geïnstalleerd wordt of wanneer een houten vloer vervangen dient te worden. Beton storten kan op verschillende manieren worden uitgevoerd. De drie meest voorkomende manieren om beton te storten zijn de pompstort, kubelstort en kruiwagen stort.
Hoe kan ik het beste beton storten?
De pompstort is het meest voorkomend en over het algemeen ook het minst arbeidsintensief. Door steeds strengere richtlijnen mag de fysieke belasting voor een arbeider lang niet meer zo hoog liggen als vroeger. Hierdoor worden steeds meer bouwprocessen gemechaniseerd om het werk voor een arbeider minder belastend te maken. De betonpomp is hiervan een goed voorbeeld. Het storten van beton met behulp van een betonpomp is normaal gesproken geen zwaar werk. Dit komt doordat de beton nauwkeurig kan worden gedoseerd en gepositioneerd.
Ontwikkelingen binnen beton storten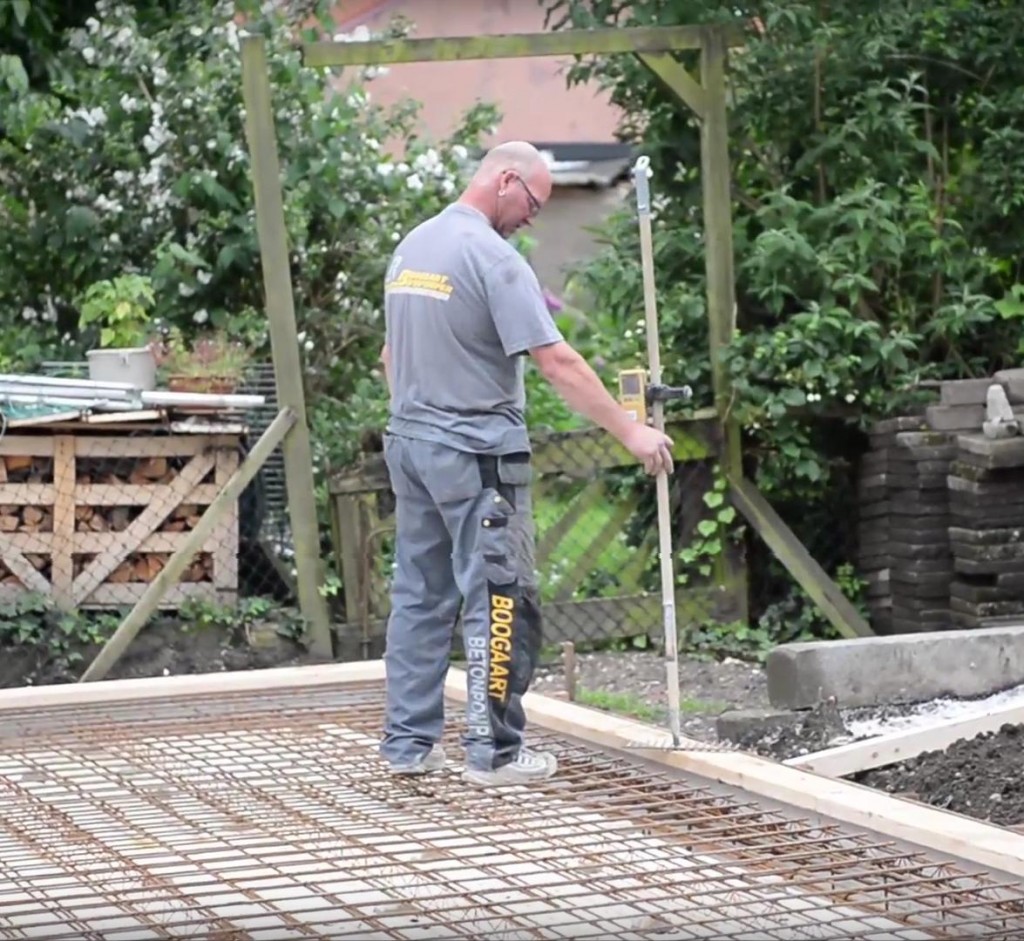 De trend is dus steeds lichter werken. Een recent voorbeeld hiervan is de opkomst van gietdekvloeren. De arbeidsinspectie heeft min of meer het traditioneel toepassen van dekvloeren aan banden gelegd. Een uitkomst hierin is de minibetonpomp. Deze kleine betonpomp leent zicht uitstekend voor het gieten van cementgebonden giet dekvloeren alsook anhydrietvloeren.
De kubelstort wordt uitgevoerd middels een hijskraan en een kubel. Een kubel is een grote trechter, over het algemeen variërend in grote van 600 tot 2000 liter. Beton storten met een kubel gaat minder nauwkeurig dan het storten van beton met behulp van een betonpomp.
Een kruiwagen betonstort is de meest intensieve manier van beton storten. De kruiwagen wordt gevuld met beton vanuit de betonmixer en verreden naar de gewenste locatie. Over het algemeen wordt deze manier van storten alleen nog toegepast voor zeer kleine hoeveelheden (< 1 kuub) beton en kleine afstanden.
Beton storten? Huur een mini betonpomp
Betonvloer gieten? Wij raden u aan om bij het storten van beton een mini betonpomp te gebruiken. Met een mini betonpomp kunt u beton storten op moeilijk bereikbare plekken, kunt u eenvoudig doseren en beschikt u over een wendbare slang om eenvoudig te spuiten. Bij ons kunt u een pomp huren voor beton storten tegen een scherpe prijs. Wij informeren u graag over de mogelijkheden, dus vraag gerust een offerte bij ons aan.