De mini betonpomp, of kleine betonpomp, is de oplossing voor het storten van beton op moeilijk bereikbare plaatsen en de kleine betonstort. Het is de ideale manier van beton storten voor een tuinhuis of een aanbouw. Beton storten met een pomp maakt u werkzaamheden vele malen lichter, bovendien kunt u het beton eenvoudig doseren met de bijgeleverde slang. Tevens wordt de kleine betonpomp ingezet bij het vullen van de langsnaden of kelknaden van kanaalplaatvloeren. De handzame slangen met een kleine diameter zijn de oplossing bij het naden vullen van betonvloeren zoals beganegrondvloeren, kanaalplaatvloeren, vloeivloeren en gietvloeren. Daarnaast kan een kleine betonpomp worden gebruikt voor het storten van lichtgewicht schuimbeton, de afwerking van prefab vloeren en het vullen van buispalen en funderingherstel.
De voordelen van een mini betonpomp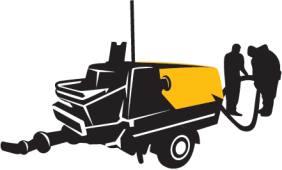 Door zijn kleine afmetingen kan de kleine betonpomp zo goed als elke locatie bereiken. Niet zelden werkt de kleine betonpomp efficiënter en goedkoper dan een grote betonpomp. Voor de kleinere betonstorts heeft een grote pomp vaak te veel vermogen. Tevens zijn de dikke beton slangen over de grond onhandelbaar. Al deze nadelen worden weggenomen door de kleinebetonpomp. Voor het schone en nette werk is de kleine betonpomp een must!
Beton storten met pomp
De kleine betonpomp is breed inzetbaar bij het beton storten. De sterke punten van de kleine betonpomp lopen uit een van het vullen van voegen tot aan het storten van druklagen. Vooral in het fijne werk is de kleine pomp op elk gebied onverslaanbaar. Door zijn kleine omvang is de kleine betonpomp nagenoeg overal op te stellen. De maximale lengte van de slang bedraagt ruim 200 meter. Door het inzetten van meerdere pompen is vrijwel elke afstand overbrugbaar.
Wilt u een mini betonpomp huren?
De kleine betonpomp is de ideale oplossing voor zowel de zakelijke klant als de particulier. Iedereen kan gebruik maken van de betonpompverhuur van Boogaart Betonpompen. Voor iedereen levert Boogaart Betonpompen flexibele oplossingen. U kunt desgewenst uw beton laten storten door onze vakspecialisten. Door onze decennia lange ervaring hebben wij de expertise in huis voor elke betonstort. Het maak hierbij niet uit of het gaat om een fundering, balk- en broodjes vloer, aanbouw op zand, of welke betonstort dan ook. Vraag naar de tarieven van onze betonpompen verhuur en laat u verrassen door de aantrekkelijke mogelijkheden die de kleine betonpomp u biedt.